Another book post! Perhaps you already missed them around here? At least I did! I didn't post my December reads at the end of that month nor at the beginning of January. I had meant to post December and January Reads as two different posts but with all the start of the new year posts, the Mystery KAL posts, and the exam madness that was the whole of January didn't find the time to post the December reads. By the time I had, I thought it better to post the month December and January together. As it happens I hardly read anything in the month January (due to aforementioned exam madness) so it's better to combine them anyway. December was definitely a Gaiman month. Because of the Christmas Holiday I had a lot more time for non-uni reads, and that is reflected in this post I think.
The Tempest – William Shakespeare
The Tempest is one of the few plays written by Shakespeare that is believed to be completely his original work. In other scholars have not found a source text he based his story on. There are only a handful of plays that are ascribed to him as being his original work. For other works he "borrowed" a basic plot line, but made it his own with alterations and flavouring. One of the other important plays that is believed to be Shakespeare's original work is A Midsummer Night's Dream, and just as in The Tempest, the supernatural and magic played an important role in the play, which makes you think that Shakespeare had a taste for that kind of stuff.
For years the play was surrounded by lots of myths legends, mainly concerning the claim of it being the last play written by Shakespeare. Many have read it as an autobiographical play, but in the last couple of years scholars have questioned both of these claims. Personally I think that it's tempting to try and read a lot into an authors work, especially one whose stature has risen to epic proportions. Fact is that we know very little. frustratingly little if you will, about Shakespeare, and there is no reason to assume The Tempest is in any way autobiographical.
Painting by

William Maw Egley, circa 1850.
Plot: Duke of Milan, Prospero, is betrayed by his brother Antonio, and shipped of to a deserted island together with his daughter Miranda. They are supposed to die there, but they hadn't read the script and live in relative solitude for ten years or so. Then a ship carrying all the important rulers of Milan sails by. Prospero, in the meantime has studied magic, and with his spells and spirit servant Ariel in tow, creates a storm and sets out to take revenge on the people who wronged him.
What I thought: I quite enjoyed reading this play, though not as much as that other supernatural play, but well enough on the whole. While revenge and justice certainly are a themes in the play it is not a archetypal revenge play like Hamlet. The play contains some complex character and makes you wonder about the good or evil nature of them. The play raises a lot of questions about magic, and one can wonder where Prospero's magic comes from. Is it really he who has the power of magic, or is it only Ariel and is he simply commander of the magic. You might have noticed it already but I quite like plays/novels that raise a lot of questions and don't fully answers them, leaving the reader to come op with a vision of their own.

Stardust by Neil Gaiman
This was a reread. Does that count? Yes…yes it does. I love this book. Neil Gaiman is one of my favourite authors, and I enjoy reading all of his books, but this one especially is a gem. I love Gaiman's style of writing. Seemingly effortlessly he creates worlds and characters who enchants the reader making you never want the story to end. The book was made into a film, back in 2006, I believe. I only watched it once, and though it doesn't follow the book in every way, I still enjoyed it and thought it was a charming story brought to screen. (though if you haven't seen it I (obviously!) recommend you read the book first.
Plot: Tristran Thorn lives in the tiny village of Wall. The village is named after the wall that runs by it. The wall divides the normal world from the Faery world. Tristran has lost his heart to the the most beautiful girl in the village: Victoria Forester. She doesn't see much in him, but one night in a bold effort to impress Victoria he vows her to bring him the falling star they saw just a few minutes before.
To get to the star he has to go through the hole in the wall and step into a magical world full of adventure. In this world, he'll meet witches, ghosts and even walking and talking stars. It's almost enough to make a man forget about Wall at all.
What I thought: The story is set in the Victorian age and I loved how the story alluded to important (literary) events such as Dickens serializing Oliver Twist and jokes about the Pilgrim's Progress. What I loved even more was that Gaiman went out of his way to format and style his story to Victorian adventure novels. Every chapter starts with a little sentence, which is a brief summarize of what happens in the chapter. This was common in 19th century adventure novels. Jules Verne uses them in his famous novel Around the World in 80 Days and there are many more examples. Some examples of the chapter headings in Stardust are: 'Chapter I "In Which We Learn of the Village of Wall, and of the Curious Thing That Occurs There Every Nine Years"' and 'Chapter 5 "In Which There is Much Fighting for the Crown"'. I really like how much care Gaiman put into details like these. It helps that this is a style I'm rather fond of, but regardless I think it works really well for this novel.

Divergent – Veronica Roth
Confession: I'm not a big young adult fiction reader, and I'm probably the last of my bookish friends to read it. I picked it up, when I was truly down and needed some light reading to pass the time. On top of that I read it as an ebook (a first!) on a tablet. I have to admit that I'm no fan of ebooks. I champion those who are, and don't think book readers are in any way superior over ebook readers or the other way around. I just think that different people have different preferences. While I was fairly certain that I was a book person I wanted to try ebooks before writing them off completely. The experience confirmed my thoughts about the whole thing.
Plot: In a post-apocalyptic Chicago, survivors of the apocalypse are divided into five factions reflecting their character. Abnegation, for the selfless; Amity, for the peaceful; Candor, for the honest; Dauntless, for the brave; and Erudite, for the intellectual. Each year all sixteen-year-olds have to take a test which will tell them which faction suits them best. The protagonist, Beatrice, is born in the Abnegation faction, but doesn't feel she fits into any of the factions. She still has to make a choice and prove to be worthy of that choice.
What I thought: Not the best book I've read this month, not by a long shot, but it was not as bad as I expected either. The story is set in a post apocalyptic environment, as many young adult books are these days. I guess the Hunger Games' success set about an avalanche of these stories. Just as with the Twilight books which set about an avalanche of vampire/supernatural beings series, it's waiting for the moment it's target group gets bored with this theme and finds a new theme to champion.
What I liked about this book is that it for ones didn't contain the notorious 'love triangle'. I'm not against love triangle story arcs per se, especially if they are well executed. But in YA series they seemed to be a must these days, almost as if you can't write about interesting relationships without a third person being involved. It makes me questions whether it is good thing that this theme is so present in young adult novels. Especially since these novels are written for an age group that is still developing its own ideas about love and relationships and whose members are going through it for the first time. Is it a good thing to send the idea that relationships are somehow not complete if they didn't go through a love triangle? I don't know, but I thought it refreshing to not see a YA book without a triangle.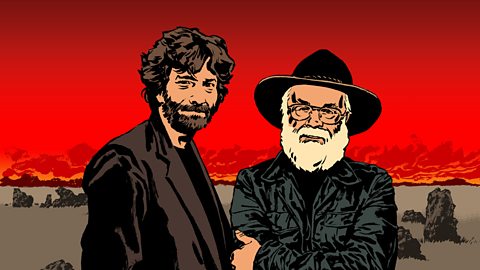 Neil and Terry in BBC's promotion for the radio play
Good Omens – Neil Gaiman and Terry Pratchett
Read this for the first time a long while back, went for a reread in preparation of the BBC Radio show which aired in December.
Plot: Two supernatural beings on earth are preparing for the inevitable (and ineffable) Apocalypse: one angel and one demon who 'did not so much fall, as saunter vaguely downward'. After spending the last six thousand years on Earth, they're rather reluctant to let it be destroyed. With a bit of effort to justify it each in their own heavenly or hellish moral code, they start to track the Antichrist, a very British eleven-year old.
What I thought: Definitely one of the best comic novels I've read. Pratchett's absurd humour and Gaiman's atmospheric writing fit like a glove. Strong female characters, although none of them as a main protagonist, including Agnes Nutter, the renaissance witch whose Nice and Accurate Prophecies form the drive for many of the protagonists' actions. Although it is possible to guess which ideas sprang from which author's mind, the whole is a very consistent work, with great comedy and characters that stay with you long after you've read the book. Not to mention, the many in-jokes that can be shared with other readers.
Last Christmas, the BBC broadcast a radio play based on this book. Though no substitute for the book, it's well made with the appropriate amount of nods towards the book readers. If you find the opportunity to listen to it, do!
Hansel and Gretel – Neil Gaiman & Lorenzo Mattotti
Author Neil Gaiman and Illustrator Lorenzo Mattotti join forces to breath new life in the classic Brothers Grimm fairy tale. I like books with illustrations and I love fairy tales, so it was no surprise I picked this up. The book is fairly short, and you will probably spend more time looking at the illustrations than reading the actual text.
Plot:It follows the plot of the original story, with some twist and touches by Gaiman here and there.

What I thought: What I loved most about this book is the illustrations. Hands down. The black and white ink illustrations perfectly set the tone for the story. It taps into the darker side of the Brothers Grimm fairy tale. As for the writing, it is harder to re-write a classic story like this without loosing to much of it's original feeling. Therefore I think Gaiman kept a lot the way it was, which was a good decision I think. I loved the twist at the end, and thought it was very Gaiman. There wasn't really a downside to this book, except…well that it isn't a very long sit.
Yokes -Kate Davies
I wasn't sure whether I should post Yokes here, as it isn't exactly a novel or a non-fiction book. However, while the patterns do take up most of the book, I felt that the essay bit was substantial enough to be included here. In her new book Kate Davies unravels the story on the yoke sweater, one of the most influential garments of the twentieth century. Circular-yoke sweaters are my favourite things to knit, so I could not contain my excitement when I heard Kate was to write a whole book about them!

The essays included:
1.Why Yokes?
2. Greenlanders and Norwegians
3. Kerstin Olsson and the Bohus Yoke
4. The Shetland Tree and Star
5. Perspectives on the Lopapeysa
6. A conversation with Meg Swansen (On the legacy of Zimmermann)
7. Yoke Connections

What I thought: The essays explore different cultural traditions. Some are more introductory and some go into more detail. Kate put a lot of care in these essays and she really tried to put in some different perspectives and shed some new lights on both these old and relatively new traditions. Some of them are interviews with specialists on the topic and others are essays about Kate's research. My favourites were 'Greenlanders' and 'Norwegians and Perspectives on the Lopapeysa'.
Those were the books I read in December and January. I didn't read as much as I usually do in a month, but due to my midterms. Writing essays and studying for a bunch of exams cuts heavily into my reading time. February is going to be different though.We're only one week in and I already read half of what I did in the two previous months. I'm taking a lot of literature courses so expect to see a lot of that in the next bookish post!